USD/TRY Outlook – USD/TRY Hits Record High
USD/TRY, CBRT News & Price Analysis
The Turkish lira is once again arousing interest, although it is not difficult to attract attention in G10 FX, it is far less exciting. Back to the lira, the lira hit a record low after Turkish President Erdogan stated that he had talked with the governor of the central bank and told him that it was necessary to lower interest rates. The President also set a July/August timetable for interest rates to begin to fall. Having said that, the governor of Turkey's central bank quickly commented that investors' concerns about the premature easing of policy should be ignored. Today's lower-than-expected inflation data may exacerbate concerns about policy easing, and the central bank will have more room to cut interest rates. Please note that the governor has previously stated that the policy rate will remain above the inflation rate.
Turkish Intrest Rates vs Inflation Rate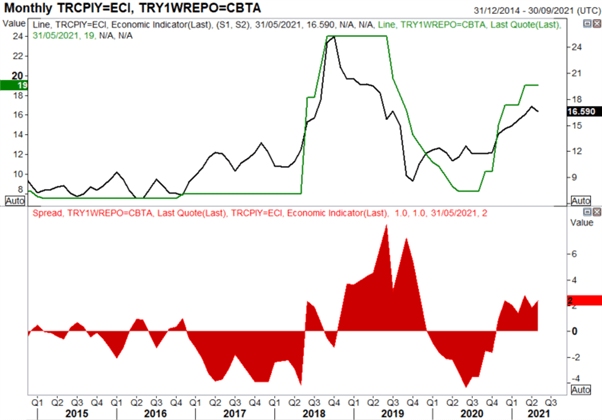 Source: Refinitiv
From the chart, the path of least resistance is the highest USD/Turkish lira. Volatility may rebound before the July and August meetings. Of course, above the swing high of 8.7775, the focus will be on the psychological level of 9,000.
USD/TRY Chart: Daily Time Frame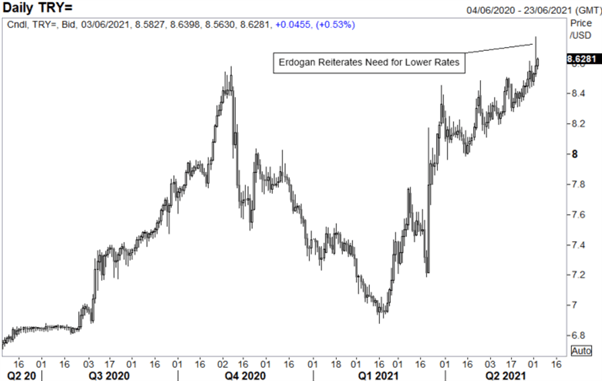 Source: Refinitiv