Bitcoin and Ethereum – Leading to Higher Prices
Bitcoin (BTC/USD), Ethereum (ETH/USD), Alt-Coins Price, Chart, and Analysis
The 200-day SMA continued to support Bitcoin, while Ethereum sought the support of 20-day SMA. Alternative currencies diverged, and Solana (SOL) outperformed the market.
Bitcoin has broken through the recent ascending channel and is now struggling to regain support, with resistance at around $48,000. BTC is currently supported by the 200-day simple moving average and is trading on both sides of the 50% Fibonacci retracement level, at a price slightly below 47,000 USD. Although this week began to sell off from Monday's multi-week highs, if the longer-term moving average and Fibonacci retracement remain unchanged over the weekend, the technical outlook does not look too negative. The CCI indicator is no longer in the overbought zone and is currently at its lowest level in a month, contributing to an optimistic outlook. If there is any sell-off, a set of recent lows and the 38.2% Fibonacci retracement level between $42,500 and $44,000 should provide initial support.
Bitcoin (BTC/USD) Daily Price Chart August 27, 2021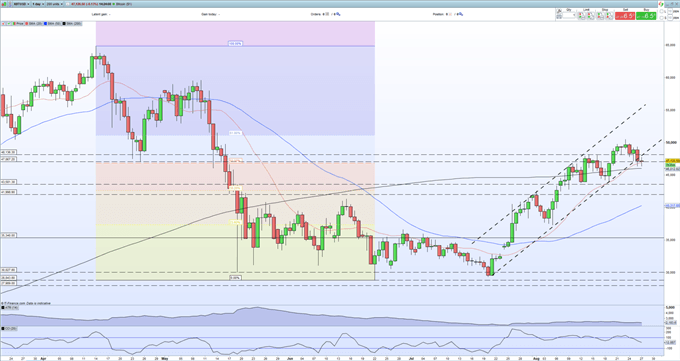 Ethereum's sharp rise in mid-July has stalled in the past two weeks, and the second largest cryptocurrency is trying to regain the strong upward trend of the channel. Ethereum is in the very short-term zone of US$3,050 to US$3,250 and is also trading on both sides of the 20-day sma. The recent multi-week high of $3,378 is still close, and may face pressure in the coming days and weeks, especially if the 20-day moving average is still supporting.
Ethereum (ETH/USD) Daily Price Chart August 27, 2021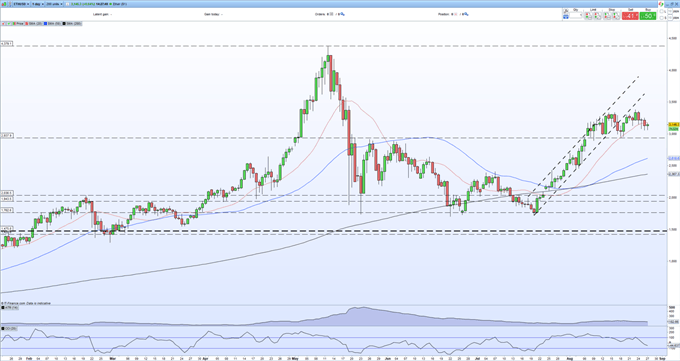 The altcoin market had a mixed day, but ended the week in a positive stance, reducing recent losses. Cardano (ADA) returned to $2.85 and rose 12% within 7 days, Binance Coin (BNB) rose 11%, and Solana also rose 11% during the same period. Other high-profile coins, Ripple (XRP), Dogecoin (DOGE) and Polkadot (DOT) fell by about 10% in 7 days.
Solana (SOL) carry on to Make New Highs on Pumped Up Volume